︎

Thursday
2018
Luleå Biennial 2018
Konsthall, Luleå.

Glass is a recurring material in Susanna Jablonski's work. At once fragile and severe, Jablonski is fascinated by its inherent ambivalence. How thin can you get the glass without it cracking, how solid before it bursts? In the blue room of the Konsthall is Thursday, a rose-coloured dreamy sculpture mounted to the wall. It initiates a compelling game with our perception and demands that we adjust our eyes. What is it that we are seeing? Here, the fragile form becomes absurd, drawing a picture of an inner landscape, a temporary organ that emerges during pregnancy: the placenta as mediator between mother and foetus. Take a closer look, and a white finger appears to protrude from the wall, as if the wall contains hidden body parts waiting to carry us. The gesture is two-fold: on the one hand, the heavy material is upheld by the finger, while on the other, the finger threatens to puncture its surface. Here is a delicate balance between making and breaking.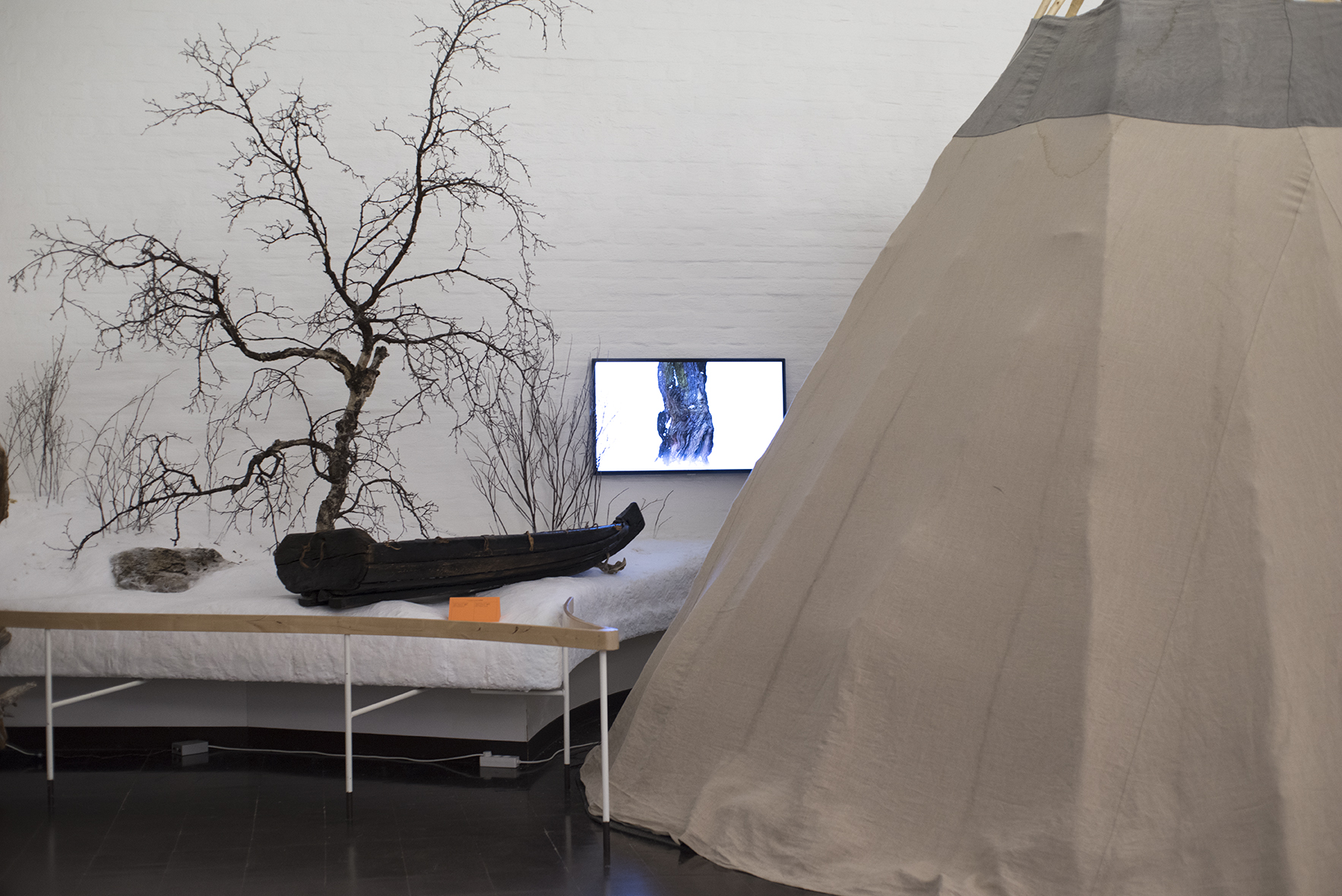 After Nature
2017
Luleå Biennial 2018
Ájtte Museum, Jokkmokk


Susanna Jablonski in interested in the concept of entropy; the inevitable and gradual decline into disorder of a condition or system. It is through entropy that we determine the direction of time. Throughout her work, she bends and tests the boundaries of her materials. The objects that emerge feel at once strange and familiar, and often thematise how memories are stored in the body. In After Nature a willow slowly and corporeally twists into a foggy winter landscape. It is a dream-like animation wherein the physical properties of the tree dissolve, while, remaining firmly rooted, it stretches across an infinite length of time. It's a movement that recalls the ageing of the body and the passing of time. After Nature is exhibited in Gamla Hallen, the entrance to the permanent display at Ájtte. The video is presented alongside a flock of grouse flying over a tent – a shelter from the winter's cold and the harsh northern winds.

Read more about the Luleå Biennial.